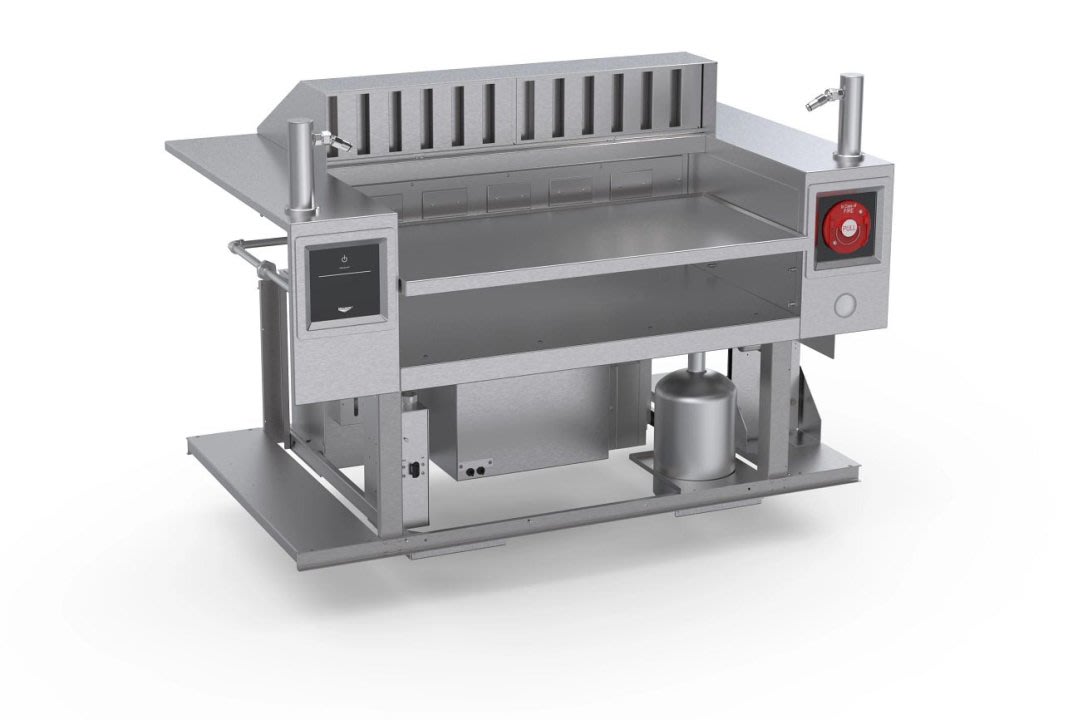 FC-6DV-36
36-inch FlexVent™ versatile slide-in with downdraft vent and fire suppression system
Elevate your serving line by adding a Vollrath® FlexVent™ versatile slide-in with downdraft vent system and fire suppression. This slide-in unit provides unparalleled flexibility for presentation cooking by eliminating the need for a bulky exhaust hood. The self-contained unit is both sophisticated and practical accommodating a variety of electrical cooking equipment – from induction ranges, griddles to sandwich presses, and even fryers – that can be easily interchanged. The included shelf is adjustable to fulfill a variety of height requirements that suit different equipment, ergonomic needs, and health code requirements. Ideal for presentation cooking, this UL Recognized and UL Classified station will fit seamlessly into your custom serving line for an aesthetically pleasing look. NOTES: This product is made to order and cannot be cancelled or returned. This product is UL Recognized. UL Recognized components are incomplete in certain constructional features and require professional installation and subsequent evaluation to relevant safety standards.
Fully self-contained downdraft recirculating vent and fire suppression system with UL710B Certification eliminates the need for bulky exhaust hoods
Interchange cord-and-plug cooking equipment, slide-in unit is not intended for use with gas equipment
Adjustable shelf fulfills a variety of height requirements for equipment, ergonomic needs, and health code requirements and enables the proper function of the fire suppression system
Fits seamlessly to custom serving lines for aesthetically pleasing look
Works with industry-wide breath guard configurations as guided by local health code requirements
Access panel on operator side allows for one side servicing
UL Recognized to UL710B
UL Classified to NSF 2
Max. configurable appliance load: Voltage - 120/208-240; Hz - 60; Wattage - 7200; Amps - 30
*NOTE: Total maximum weight limit for the shelf is 120 pounds, evenly distributed. Compliance with this limit is required for the safe operation of FlexVent.
Product
Specifications
Model Information

| Name | Value |
| --- | --- |
| Model | FC-6DV |
| UPC | 029419462421 |
Unit Dimensions

| Name | Value |
| --- | --- |
| (W) Width (IN) | 53.5 |
| (D) Depth (IN) | 35.125 |
| (H) Height (IN) | 36.75 |
| (H2) Secondary Height (IN) | 29.625 |
| (WS) Shelf Width (IN) | 35.75 |
| (SD) Shelf Depth (IN) | 18.25 |
| (W) Width (CM) | 135.9 |
| (D) Depth (CM) | 89.2 |
| (H) Height (CM) | 93.3 |
| (H2) Secondary Height (CM) | 75.2 |
| (WS) Shelf Width (CM) | 90.8 |
| (SD) Shelf Depth (CM) | 46.4 |
Electrical

| Name | Value |
| --- | --- |
| Amps | 3.4 |
| Hz | 60 |
| Voltage | 120 |
| Watts | 420 |
Construction

| Name | Value |
| --- | --- |
| Product Function | Slide-In Cooking Unit |
Product

Parts

| Name | Part # | Price |
| --- | --- | --- |
| TOGGLE CAP-BLACK | 17939-1 | $1.50 |
| NUT 10-32 HEX STAINLESS STEEL | 21547-1 | $0.70 |
| 1.5 GAL AGENT TANK ASSEMBLY | 2503342-1 | $809.20 |
| 1W NOZZLE WITH METAL CAPS | 2503344-1 | $136.54 |
| NOZZLE SWIVEL ADAPTOR | 2503345-1 | $90.74 |
| REMOTE PULL STATION, 50' WIRE | 2503349-1 | $512.72 |
| SL 165 - STYLE LINK | 2503351-1 | $34.76 |
| 1/4-20 NYLOCK JAM LOCKNUT | 25266-3 | $0.70 |
| STRAIN RELIEF - FOR 3/8 CORD | 26543-3 | $1.80 |
| PSC FAN | 351996-1 | $1,245.30 |
| FLEXVENT CONTROL, WIRE SET | 352002-1 | $132.68 |
| HOOD ASSEMBLY | 352008-2 | $959.39 |
| PARTICULATE FILTER | 352010-1 | $637.40 |
| STRAIN RELIEF, .220-.290 CORD, | 352014-1 | $0.56 |
| STRAIN RELIEF, .130-.210 CORD, | 352015-1 | $1.09 |
| INTERLOCK BOX ASSEMBLY | 352031-2 | $599.24 |
| DRIP TRAY ASSEMBLY | 352034-2 | $112.48 |
| GREASE FILTER, 6X18 | 352035-2 | $443.64 |
| SHELF ASSEMBLY | 352044-2 | $613.46 |
| FLEXVENT CONTROL, UI | 352047-1 | $240.68 |
| RISER CAP | 352051-1 | $108.98 |
| RISER TUBE - 2" DIAMETER | 352054-2 | $104.40 |
| 2" SIGHT GLASS | 352055-1 | $3.06 |
| FLEXVENT CONTROL, PRESSURE | 352058-1 | $920.61 |
| RISER BOTTOM TRIM | 352398-2 | $112.74 |
CAD /
REVIT
For the most updated list for Vollrath products and CAD drawings
Customer
Questions
Be the first to ask a question