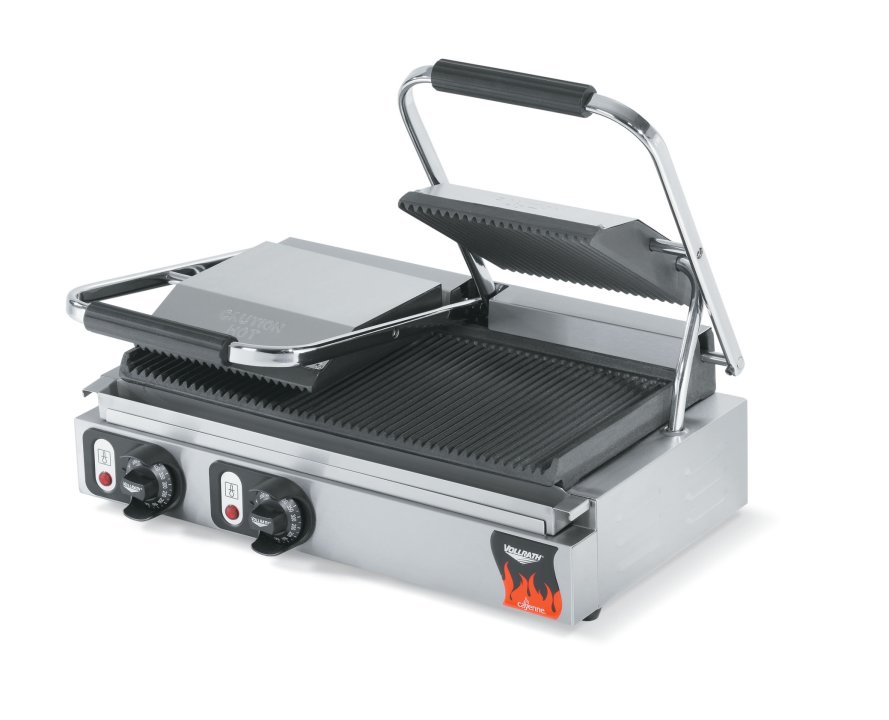 Double 208- to 240-volt Cayenne® sandwich press with panini-style, cast-iron plates
This symbol represents products that have met the minimum requirements of prescribed product safety standards. The symbol also indicates that the manufacturer's production site conforms to a range of compliance measures and is subject to periodic follow up inspections to verify continued conformance.
The Vollrath® Cayenne sandwich press quickly and evenly cooks a variety of food items. Made out of heavy-duty cast iron to maintain heat, both the top and bottom plates have grooves that create mouthwatering grill lines. This sandwich press has a high power output and is built to last. It is a versatile addition to your kitchen, as both sides of this press can be operated independently. This allows you to cook two different foods at once, and the thermostatic controls ensure consistent results. Inset heating element channels create greater heating efficiency, and the stainless steel exterior gives everything a smooth finish.
Excellent choice for sandwiches, paninis, meats, vegetables and more
Double unit features separate controls for each side, increasing productivity by allowing you to cook two foods at one time
Ribbed top and bottom plates create panini-style presentation
Adjustable handle changes press height, so you can evenly cook any order
Brush included to make cleaning easy and efficient
120°F to 470°F temperature range
Product
Specifications
Model Information

| Name | Value |
| --- | --- |
| Model | TSI8002 |
| UPC | 029419719907 |
Unit Dimensions

| Name | Value |
| --- | --- |
| Overall Dimensions (IN) | 22.437 x 14.875 x 8.062 |
| (W) Width (IN) | 22.5 |
| (D) Depth (IN) | 15 |
| (D2) Secondary Depth (IN) | 14.5 |
| (H) Height (IN) | 8.06 |
| Overall Dimensions (CM) | 57 x 37.8 x 20.6 |
| (W) Width (CM) | 57.2 |
| (D) Depth (CM) | 38.1 |
| (D2) Secondary Depth (CM) | 36.8 |
| (H) Height (CM) | 20.6 |
Electrical

| Name | Value |
| --- | --- |
| Amps | 13 - 15 |
| Cord Length (IN) | 48 |
| Cord Length (CM) | 120 |
| Hz | 60 |
| Plug | NEMA 6-15P |
| Voltage | 208-240 |
| Watts | 2700 - 3600 |
Weight

| Name | Value |
| --- | --- |
| Weight (LB) | 63.2 |
| Weight (KG) | 28.67 |
Construction

| Name | Value |
| --- | --- |
| Countertop or Drop-In | Countertop |
Case Lot Measurement

| Name | Value |
| --- | --- |
| Case Lot | 1 |
| Case Width | 17.75 |
| Case Height | 10 |
| Case Length | 26.5 |
| Case Lot Cube (ft.) | 2.72 |
| Case Lot Weight (lbs.) | 63.2 |
Product

Parts

| Name | Part # | Price |
| --- | --- | --- |
| PILOT LIGHT 220V (RED) | XAA0002 | $16.00 |
| POWERCORD 220V (NEMA6-15P) | XAA0006 | $40.40 |
| CONTROL PANEL FASCIA - BLACK | XAA0009 | $28.10 |
| CABLE RESTRAINT (FMA SKA FFA) | XAA0012 | $9.70 |
| CONNECTOR BLOCK TSA(ALL) SAA(A | XTSA0005 | $20.00 |
| THERMOSTAT TSI; TSA(ALL) (#43 | XTSA0007 | $253.40 |
| WIRE BRUSH TSI7009/TSI8012 (# | XTSI0031 | $30.30 |
| RUBBER FOOT TSI7001(#3)TSI8002 | XTSI2004 | $3.50 |
| VOLLRATH CONTROL KNOB TSI7001/ | XTSI2015 | $16.10 |
| HANDLE SPRING TSI7001/TSI8002 | XTSI2018 | $29.70 |
| HINGE AXLE CIRCLIP TSI7001 (#2 | XTSI2020 | $3.10 |
| BRASS CLAMPING SADDLE TSI7001 | XTSI2023 | $16.10 |
| WIRING TUBE TSI8002 | XTSI2037 | $40.30 |
| WIRING TUBE RIGHT TSI8002 | XTSI2038 | $40.30 |
| DRIP TRAY | XTSI3004 | $54.90 |
| TOP PLATE TSI8002 (#2) | XTSI3005 | $250.60 |
| BOTTOM PLATE TSI8002 (#23) | XTSI3006 | $626.90 |
| TOP ELEMENT(NEW TYPE) TSI8002 | XTSI3007 | $85.70 |
| BOTTOM ELEMENT(NEW TYPE) TSI80 | XTSI3008 | $98.90 |
| STEEL HANDLE TSI8002 (#19) | XTSI3019 | $71.50 |
| PLASTIC HANDLE GRIP TSI8002 (# | XTSI3020 | $23.80 |
| HINGE AXLE REAR (WITH BOLTS) T | XTSI3021 | $37.30 |
| HINGE AXLE FRONT TSI8002 (#5) | XTSI3022 | $38.90 |
| AXLE REAR COVER | XTSI3024 | $36.70 |
CAD /
REVIT
For the most updated list for Vollrath products and CAD drawings
Customer
Questions
Be the first to ask a question