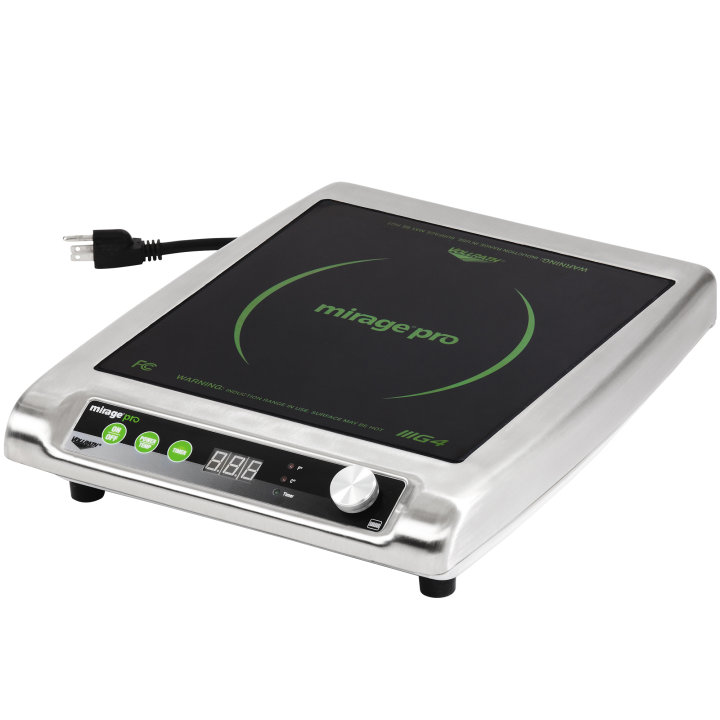 59500P
120-volt 1800-watt Mirage® Pro countertop induction range
The Vollrath® Mirage Pro countertop induction range provides safe, high-efficiency heating with a gas-like performance. A strong engine powers the entire unit with 90-percent energy efficiency, compared to the approximate 50-percent efficiency of gas ranges. This impressive unit has a power mode with 100 power levels and an approximate temperature range from 80°F to 525°F for extreme versatility. It also has a temperature mode with a temperature range from 80°F to 400°F for precise heating. The knob and digital controls are easy to use and clean, while the bright LED display keeps you informed. The temperature memory heats the unit to the last set temperature for your convenience. Auto shutoff and hot-surface warning features extend the life of this unit and improve safety. The stainless steel body and molded plastic bottom are built to last, while the smooth ceramic top is easy to clean and framed for added durability. Compact and easy to transport, this induction range is ideal for light-duty cooking on the go. This unit is protected by a 2-year limited warranty.
Designed for light-duty cooking applications, such as buffets, demonstrations and catered events
Extremely energy-efficient
Use with induction cookware only
Factory-bench-tested for ultimate quality control
Fits pans up to 10.25-inches in diameter
80°F to 400°F temperature range
6-foot cord and plug
Maximum pan diameter is provided as a guideline for achieving maximum performance. Cookware with a larger base diameter can be used, however only the area of the cookware above the induction coil will heat. The more cookware extends past the coil, the more the overall performance will be reduced. Other factors impact performance including pan construction, material, the density and volume of the food in the pan, ambient temperature and food temperature. Cookware with interior construction or material may not perform well.
Product
Specifications
Model Information

| Name | Value |
| --- | --- |
| UPC | 029419833221 |
Unit Dimensions

| Name | Value |
| --- | --- |
| Overall Dimensions (IN) | 14 x 15.25 x 3 |
| (W) Width (IN) | 14 |
| (D) Depth (IN) | 15.25 |
| (H) Height (IN) | 3 |
| (MPD) Maximum Pan Bottom Diameter (IN) | 10.25 |
| (MPD) Minimum Pan Bottom Diameter (IN) | 4.75 |
| (HB) Height of Body (IN) | 2.5 |
| Overall Dimensions (CM) | 35.6 x 38.7 x 7.6 |
| (W) Width (CM) | 35.6 |
| (D) Depth (CM) | 38.7 |
| (H) Height (CM) | 7.6 |
| (MPD) Maximum Pan Bottom Diameter (CM) | 26 |
| (MPD) Minimum Pan Bottom Diameter (CM) | 12.1 |
| (HB) Height of Body (CM) | 6.4 |
Electrical

| Name | Value |
| --- | --- |
| Amps | 15 |
| Cord Length (IN) | 72 |
| Cord Length (CM) | 183 |
| Hz | 60 |
| kW | 1.8 |
| Plug | NEMA 5-15P |
| Voltage | 120 |
| Watts | 1800 |
Construction

| Name | Value |
| --- | --- |
| Construction Material | Stainless Steel |
| Construction Material 2 | Electrical Components |
| Countertop or Drop-In | Countertop |
Case Lot Measurement

| Name | Value |
| --- | --- |
| Case Lot | 1 |
| Case Width | 19 |
| Case Height | 6.5 |
| Case Length | 17.25 |
| Case Lot Cube (ft.) | 1.12 |
| Case Lot Weight (lbs.) | 13.65 |
Product

Accessories

| Name | Item # |
| --- | --- |
| Countertop induction range carrying case | 59145 |
CAD /
REVIT
For the most updated list for Vollrath products and CAD drawings
Customer
Questions
Be the first to ask a question