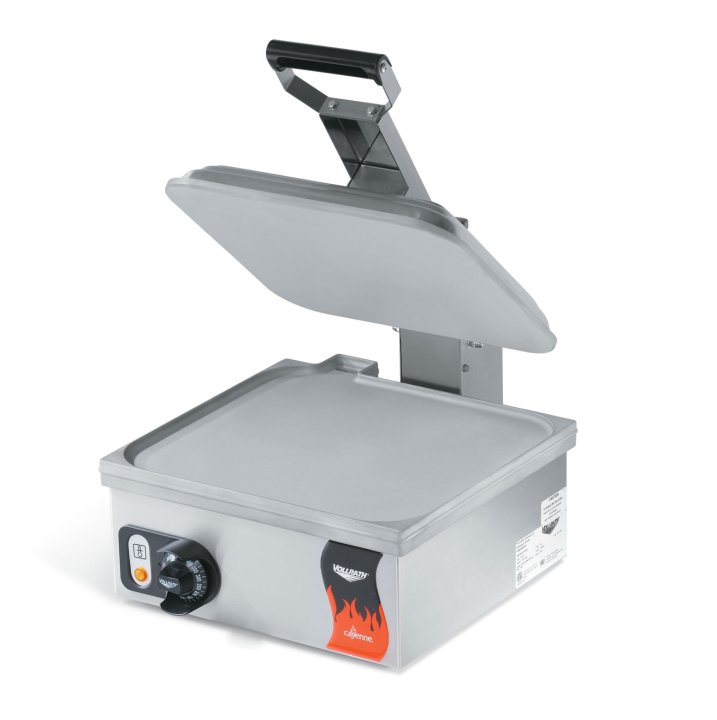 120-volt Cayenne® sandwich press with smooth, natural-finish plates
This symbol represents products that have met the minimum requirements of prescribed product safety standards. The symbol also indicates that the manufacturer's production site conforms to a range of compliance measures and is subject to periodic follow up inspections to verify continued conformance.
The Vollrath® Cayenne sandwich press is a versatile addition to your kitchen. Made out of triple-layered aluminum, the flat plates are smooth and durable. While the plates quickly heat up and recover, the handle always stays cool to the touch. The handle is also adjustable, allowing you to change the press height, so you can evenly cook any order. Thermostatically controlled for consistent results, this sandwich press provides high-quality results every time.
Excellent choice for sandwiches, paninis, meats, vegetables, tortillas, and more
Durable aluminum plates heat and recover quickly for more efficient cooking
Inset heating element channels create greater heating efficiency
Smooth natural-finish plates are easy to wipe down and clean
Adjustable handle changes press height, so you can evenly cook any order
120°F to 470°F temperature range
Product
Specifications
Model Information

| Name | Value |
| --- | --- |
| Model | TSA7009 |
| UPC | 029419719860 |
Unit Dimensions

| Name | Value |
| --- | --- |
| Overall Dimensions (IN) | 14 x 19 x 13 |
| (W) Width (IN) | 14 |
| (D) Depth (IN) | 19 |
| (H) Height (IN) | 13 |
| (WCS) Cooking Surface Width (IN) | 13.312 |
| (DCS) Cooking Surface Depth (IN) | 12.187 |
| Overall Dimensions (CM) | 35.5 x 48.3 x 33 |
| (W) Width (CM) | 35.5 |
| (D) Depth (CM) | 48.3 |
| (H) Height (CM) | 33 |
| (WCS) Cooking Surface Width (CM) | 33.8 |
| (DCS) Cooking Surface Depth (CM) | 31 |
Electrical

| Name | Value |
| --- | --- |
| Amps | 15 |
| Cord Length (IN) | 48 |
| Cord Length (CM) | 120 |
| Hz | 60 |
| Plug | NEMA 5-15P |
| Voltage | 120 |
| Watts | 1800 |
Weight

| Name | Value |
| --- | --- |
| Weight (LB) | 27.38 |
| Weight (KG) | 12.42 |
Construction

| Name | Value |
| --- | --- |
| Construction Material | Stainless Steel |
| Construction Material 2 | Cast Aluminum Plates |
| Construction Material 3 | Electrical Components |
| Countertop or Drop-In | Countertop |
Case Lot Measurement

| Name | Value |
| --- | --- |
| Case Lot | 1 |
| Case Width | 14.25 |
| Case Height | 17.5 |
| Case Length | 21.75 |
| Case Lot Cube (ft.) | 3.14 |
| Case Lot Weight (lbs.) | 28.4 |
Product

Parts

| Name | Part # | Price |
| --- | --- | --- |
| POWERCORD 120V (NEMA5-15P) | XAA0005 | $48.50 |
| CONTROL PANEL FASCIA - BLACK | XAA0009 | $28.10 |
| PILOT LIGHT 110V (YELLOW) | XAA0011 | $9.60 |
| CABLE RESTRAINT COA7001/7002/8 | XCOA1013 | $7.40 |
| HANDLE SPRING TSA(ALL) (# 30) | XTSA0001 | $10.70 |
| DRIP CUP TSA(ALL) (#26) | XTSA0002 | $50.40 |
| PLASTIC HANDLE GRIP TSA(ALL) | XTSA0003 | $54.10 |
| RUBBER FOOT TSA(ALL) (#40/41) | XTSA0004 | $5.70 |
| CONNECTOR BLOCK TSA(ALL) SAA(A | XTSA0005 | $20.00 |
| PLATED EYE BOLT TSA7009/7109/7 | XTSA0006 | $8.70 |
| THERMOSTAT TSI; TSA(ALL) (#43 | XTSA0007 | $253.40 |
| BOTTOM PLATE TSA7009 (#16) | XTSA0008 | $287.20 |
| HEIGHT ADJUSTER SCREW & KNOB( | XTSA0032 | $13.40 |
| HEX SPACER TSA (ALL) (#11) | XTSA0052 | $11.20 |
| BOTTOM ELEMENT TSA7009/7109/72 | XTSA0011 | $100.50 |
| WIRING KIT 110V TSA(ALL) | XTSA0054 | $65.30 |
| HANDLE SCREW M5-10 THREAD CUT | XTSA0051 | $10.00 |
| TOP ELEMENT110V TSA(ALL) (#14 | XTSA0012 | $109.10 |
| HANDLE BRACKET TSA(ALL) (#4) | XTSA0050 | $45.90 |
| BOTTOM ELEMENT COVER TSA(ALL) | XTSA0025 | $57.10 |
| HANDLE AXLE PIN TSA(ALL) (#7 | XTSA0013 | $28.70 |
| SPRING SUPPORT BRACKET TSA(ALL | XTSA0057 | $32.80 |
| CONTROL KNOB(0-570F) TSA(NON C | XTSA0010 | $15.80 |
| TOP PLATE TSA7009 (#15) | XTSA0009 | $237.40 |
| FIBER HEAT SHIELD(5MM) TSA(AL | XTSA0026 | $42.80 |
| VOLLRATH CONTROL KNOB TSA7009/ | XTSA0015 | $16.00 |
| HANDLE ASSEMBLY COMPLETE TSA7 | XTSA0043 | $470.60 |
CAD /
REVIT
For the most updated list for Vollrath products and CAD drawings
Customer
Questions
Be the first to ask a question